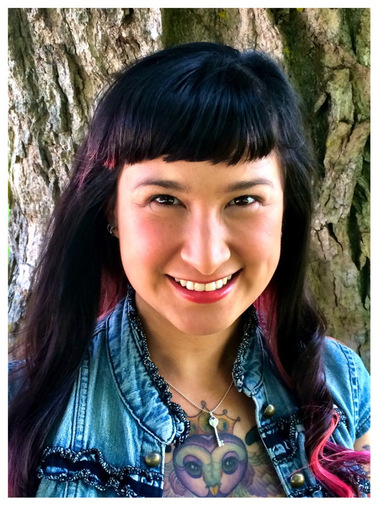 Andrea Brown is a professional makeup artist based out of Toronto Canada. Her background in art and design helps her approach makeup with a special eye. Versatile with makeup and prosthetics, she has the tools to help projects come to life.

Andrea's television work has been featured on SyFy, Space, National Geographic and Discovery Channels. Notable work includes 4 seasons of SyFy's Paranormal Witness as Dept. Head of Hair/ Makeup and Special Effects Makeup.

Andrea holds dear to her heart her work on the project "The Endings: Photographic Stories of Love, Loss, Heartbreak, and Beginning Again" by Caitlin Cronenberg and Jessica Ennis which has been published as a book and film shorts.
Recently she has had the pleasure of working as part of the teams for projects such as Scary Stories to Tell in the Dark, Mrs. America, Impulse, Star Trek Discovery and American Gods.

Please feel free to contact about rates and availability.
Testimonials:
Mike Marshall, Director of Suicide Girls Guide to Living
"Andrea is such a great asset to have on set. Not only is she one of the most talented make up artist I have ever worked with but she also brings her infectious, upbeat, happy personality to set every day. A talented, hard worker with a smile. Who could ask for anything more? If I could have her on every shoot I would."
Bill Coultre, Actor and CP24 Meteorologist www.billcoulter.tv
"Andrea consistently brightens my appearance and my day. She is an exceptional make-up artist and a pleasure to be around. I would highly recommend her to anyone who wants to look and feel their best!"
Dan Turcotte, Director and Producer of Dan's Pet Shop www.danspetshop.com
"Andrea Brown is ALWAYS our first call for makeup, hair and styling. Andrea and her associates are not only amazing at what they do but are also great to work with. I can always trust them to make my on camera talent look their best!"